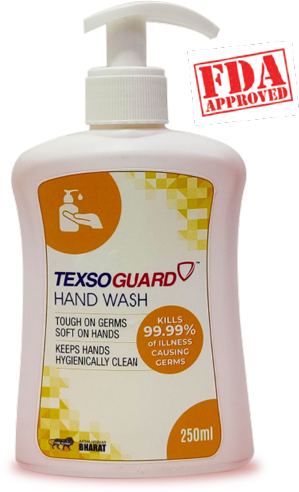 Texsoguard Hand Wash provides you with assured 99.99% protection from illness-causing germs and bacteria. The hand is absolutely gentle on hands. The goal of this product is to keep your family healthy.
PRODUCT FEATURES
Texsoguard Hand Wash provides daily protection from illness causing germs.
It is gentle on hands, but tough on germs.
Deeply cleans your hands and keeps them hygienically clean.
Texsoguard Hand wash Kills 99.99% illness causing Germs.
Available In:
250 ml pump bottle, 5 liter can
PRODUCT USAGE
Use
Texsoguard Hand Wash
daily for protection from germs. Squeeze out on to wet hands. Rinse for sufficient amount of time. Dry off.
SAFETY INFORMATION
Avoid contact with eyes.
In case of contact with eyes rinse with plenty of water.
If swallowed/ingested seek medical advice immediately.
Use only as directed. For external use only.
Incase of any queries please feel free to get in touch with us at the below contact details